EINMAL IST KEINMAL
E-XPLO WITH JAIME LUTZO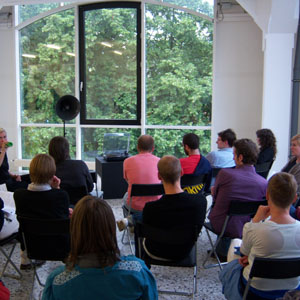 Exhibition: June 27-July 25 2009
Berlin Carré, Karl-Liebknecht-Strasse 13
Further information:
http://www.fakeorfeint.org/
http://www.e-xplo.org/

THERE WILL ALWAYS BE A TIME
WHEN TIME DOESN'T MATTER

THERE WILL ALWAYS BE A PLACE
WHERE TIME DOESN'T MATTER



Singular accounts or stories occurring around the places of their investigations have always been a part of e-Xplo's multi-layered narratives. Together with Jaime Lutzo, e-Xplo (Erin McGonigle, Rene Gabri, Heimo Lattner) has developed a work which examines how things, events and situations bring the voice into existence. How the voice (stimme) is born precisely in the nexus conjoining one's environment, one's body, one's experiences and one's desire to attune (stimmung).

For the exhibition fake or feint, e-Xplo and Jaime Lutzo, are presenting a new work entitled Einmal ist keinmal (One time is as good as never). Developed from a careful reading of Walter Benjamin's "The Storyteller," two scenarios were created as structures around which two performers crafted their stories. As there is no story without a storyteller and the one who will listen, the work focuses on these two essential figures of storytelling. The storyteller is a communicator of experiences. The listener extends the life of the story by recalling it, by interpreting it, but also by adding to it and making it a part of her or his experience.

The sound piece consists of a record containing live and unedited recordings of the two events in which the stories were born: Side 1 (performed by Robin Arthur): There will always be a time when time doesn't matter; and Side 2 (performed by Angelika Sautter): There will always be a place where time doesn't matter.

Another facet of the work was collecting stories, which were transmitted from the mouth's of the storytellers and dictated by the artists with pen and paper, a selection of which are now published in the form of a poster.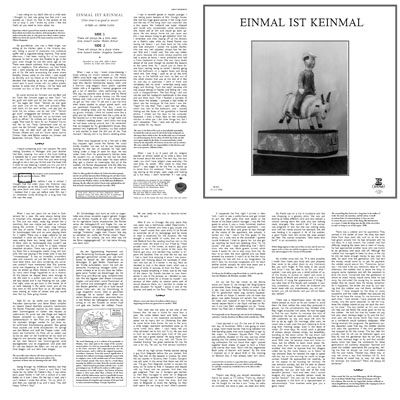 > > view poster pdf