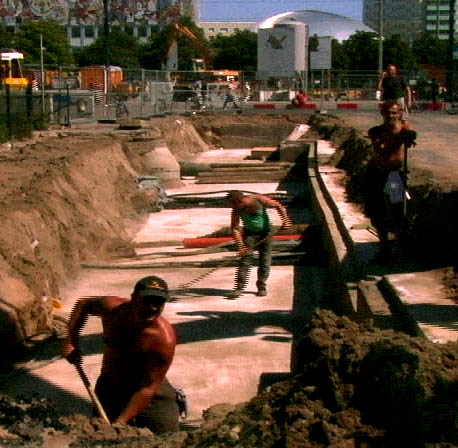 THE LAST GIFT
> > watch
> > text
THE DE(CON)STRUCTION OF THE TEMPORAL
A CRITIQUE OF ORDER OR MEMORY
AUTOBIOGRAPHIES AND FICTIONS


The vanity of words,
high strung in all the folds of their meanings.
We were paralyzed by the pull of determinacy,
The self-distancing like speaking,
is already a hesitation.
I sit at this machine to recall the disorder I give shape to.
I lace this trick skin backwards,
his voice is spoken through me,
The teenage grave digger I left suspended
inside that narrow trench,
The sky is breaking bodies whole,
and I remember now,
Just how one breathes through wet earth.

The film opens with a German woman, raised in Argentina, repeatedly smashing a neon tube against a rock in Krems. Images of industry and progress (such as commercial train tracks built during WWII in Linz, construction in 2006 at Alexanderplatz, Berlin and on the Williamsburg Bridge in Brooklyn) are contrasted with intimate details of personal routine (a woman puts on her bra, a man found through a Craigslist ad washes his feet obsessively in the shower).
A script consisting of 8 segments is the departure point for volunteer performers to enact alternative versions of biographical memories. Inter-titles and narration (read by Isabelle Casier and Amir Husak) describe scenes from the artist's autobiography as well as stories shared by friends and relatives. The act of narrative, historical and cinematic construction is referenced concurrently.